Contents
21 Years of of Paying Dividends
Texas Mutual's e-Learning ADVANTAGE
---
Texas Mutual will distribute $330 million in dividends to qualifying policyholder owners in 2019. For 21 consecutive years, Texas Mutual has paid dividends to our policyholders, who are owners of the company, in recognition for their safety and loyalty. Watch the video below to find out more about how ownership pays at Texas Mutual.

---
We are continuing our focus on Safe Patient Handling and the survey results and discussion groups from several of our hospital members. Click here to refresh your memory on why we are focusing on safe patient handling. Click here to review Part 1 of our series.
This time we are going to focus on hospital C and D. Both Hospital C and D have employee safety protocols in place. They document the training that each new employee undergoes and the refresher course that each employee takes annually thereafter. The employees sign a document within the training manual proclaiming that they have reviewed the manual and they know and understand the safety polices in place. When the survey results came out, it revealed that the hospitals' employees lack the necessary awareness of the hospital's employee safety protocols.
A group of employees for both hospitals C and D, felt that they did not have training on the safety procedures and safe patient handling. This would be frustrating for any employer, but it is especially frustrating for hospital leaders that strive to keep both employees and patient's safe. Hospital C's CEO commented, "We have to lead the horse to water and make them drink. We are working on this issue from the top down." Other hospitals are experiencing these issues too as well; they have policies and procedures in place, have requirements for employees to read and sign off of on them, they provide one on one training, yet employee awareness and engagement reports are low.
Both hospital C and D use health.edu for training their employees. One of the specific courses hospital employees are required to take is Body Mechanics and Patient Positioning. This solution provides the hospital with clear documentation that the employee has completed the necessary training. Hospital C requires their employees to take this course when they are hired and every June thereafter. Hospital C also has the OT or PT department work with every new hire with one-on-one training on proper lifting techniques.
Hospital D had a very lively discussion group, with lots of great new ideas on how to make patient handling safer for the employees. Unfortunately, resources are limited and not all of the ideas were feasible. The solution they decided upon was to develop a new code to add to the hospital's procedures. Every time an employee needs assistance with lifting a patient, they call "Code Lift" over the intercom 3 times, directing a designated lift team to the location where assistance is needed. This simple solution can be very effective. Just by hearing Code Lift called overhead, becomes a good reminder of the hospital's expectation that employees get help to lift patients safely.
The hospitals found that conducting the survey and holding discussion groups was very productive. Even if a part of the solution was discovering that a portion of the employees were not retaining the training. It gave them the opportunity to remind the employees of the current policies, and also brought some great new improvements. The hospitals will monitor the training throughout the year, and survey their employees in again next year

---
Hospitals strive to create a strong safety culture that reinforces the safety policies and procedures designed to keep both patients and employees safe. Many hospitals have these policies and procedures in place and communicate them to their employees, but it is not sticking with the employee. On top of that, the hospital needs documentation that a high standard of safety training has been completed. The real challenge becomes making it stick and making sure it is used. Below are some creative solutions that may help the training stick and help reinforce safety beyond the annual online safety course.
Have a top down approach. Employees who see their manager or CEO participate in the safe patient training is key for a hospital to create a strong culture of safety.

Don't stop at educating your floor employees on the safe lifting procedures. Making sure everyone is knowledgeable about all the safety procedures helps reinforce the importance of safety in the hospital.

Encourage the use of lifting equipment and conduct refresher courses throughout the year to remind employees of this valuable resource.

Get different departments involved in training your employees. Hospitals have a unique opportunity having physical and occupational therapists on staff. Utilize that resource and have them conduct one-on-one training with new employees. Also, have them conduct workshops for employees throughout the year to refresh the safe lifting techniques.

Expensive equipment is not always needed. Make sure there is a gait-belt in the room of every patient who is a fall risk to help handle patients safely.

Find consistent ways to remind your employees of the resources you have to help them handle patients. Whether it is a Code Lift protocol over the loud speaker or reminding them of various safety features in department meetings it is important to keep the safety culture communication constant.

Be sure to track the training that each employee takes throughout the year and review that training's effectiveness. This can be done with tracking online training as well as using sign in sheets for the one-on-one training, meetings, and workshops that each employee participates.

Surveying your employees and allowing them to have open discussions about the policies and procedures can help you see if the training is sticking and get feedback to create more ideas to help your hospital become safer. Allowing your employees to feel that they are part of the solution will go a long way to instill the safety culture and make the training stick.

Make it fun. Try to make the training engaging. When possible create games to help reinforce the safety culture. If your departments have an opportunity to get together have a short trivia session on safety with a small prize. If it is too hard to get together conduct survey quizzes throughout the year. A small gift certificate or prize can be a motivator.
Rinse and repeat. The key to a strong safety culture is to remind the employees of the policies and procedures throughout the year in a variety of ways.

---
If you are interested in having HOTCOMP help you conduct the survey in your hospital please email us.
The next steps are simple:
We will send you a custom link for your hospital.
You will then send that link to the employees that handle patients.
We will send you the results of the survey.
Once you have those results we encourage you to hold discussion groups with various employees to review your patient handling procedures.
Your hospital will implement any changes to address any issues or improvements that come out of this process.
Click here for a pdf of the survey and discussion group questions.

---
Texas Mutual hosts webinars to help employers learn how to keep their employees safe.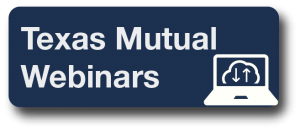 Click Here to view past webinars.

---
Texas Mutual's e-Learning ADVANTAGE
Texas Mutual's e-Learning, offers an innovative approach to online learning. Policyholders have access to our new course catalog containing 400 courses accompanied by quizzes. With e-Learning, employers can assign training, view results, send announcements and keep records easily. HOTCOMP members also have exclusive access to e-Learning courses customized for the group.
Take a look at our informational e-Learning sheet, watch a preview below, then log in to explore e-Learning.
Learn about the new courses below:
Make sure you are making the most of your safety group membership with the "Safety Group Advantages" course, which explains what it means to be in a safety group and what membership has to offer.
Safety group members have exclusive access to safety resources specific to your industry. Learn how to navigate your safety group homepage and Texas Mutual's safety resources in the "Navigating your Safety Resources" course.
Learn the benefits of a return-to-work program and the basics of how to implement one in your workplace in the "Return-to-Work Makes Sense" e-Learning course.
Log in to get started.

---
Your Safety Committee

The HOTCOMP Safety Committee meets twice a year to discuss the issues of safety in our member hospitals and what we can do to do to help make them safer workplaces.The majority of the Committee members are administrators and safety specialists in your fellow member hospitals.  We understand that issues come up through the year.  If you would like to post a question to the safety committee members as a group or individuals, please email us at safety@hotcomp.net.  We will pass your questions on to the appropriate member(s).
Marcy Murrell, 

Co-Safety Director/IC Nurse

Sweeny Community Hospital




Carol Villareal

, 

HR Manager

Gonzales Healthcare System

Muenster Memorial Hospital

Sweeny Community Hospital

Gayle Cannon

, Director of HR

Childress Regional Medical Center
About Safety Matters:
It is our hope that this publication, in addition to Texas Mutual's Safety Resource Center, proves a useful tool to promote safety in our members' hospitals. The newsletter will focus on safety issues that specifically trend to our membership hospitals.
We hope to hear from you on safety issues your hospital is facing and on successful safety procedures you have implemented. It is the safety committee's goal to create a collaborative exchange of ideas that contributes to making all of our hospitals safer which, in turn, will increase our safety group's benefits.
Please send your ideas, questions and comments to safety@hotcomp.net.
Why Your Safety Matters:
You're receiving this email as a member of the HOTComp safety group. The group is a joint effort between HealthSure and Texas Mutual Insurance Company.
Group members receive exclusive benefits like targeted safety resources, a discount on their workers' compensation insurance and potential dividends based upon the safe performance of the group. HOTComp group participants have shared in over $1 million in group dividends since 2008 in addition to individual dividends from Texas Mutual.

---