Contents
Hospitals of Texas Safety Group Receives $246,210 in Dividends
Making the workers' comp experience more intuitive
OIG finds flaws in OSHA's fatality and severe injury reporting program
OSHA Tips for emergency prevention
---
Hospitals of Texas Safety Group Receives $246,210 in Dividends
Texas Mutual Insurance Company, a policyholder-owned company, recently awarded a dividend* of $246,210 to the Hospitals of Texas safety group (HOTCOMP). The dividend was earned based on the group members' dedication to making safety a priority in their hospitals and therefore keeping the group's loss ratio low.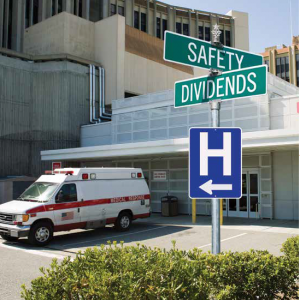 "We are happy to reward our policyholder partners who share the same values we do – namely, keeping workers safe and keeping costs low." Texas Mutual President and CEO Rich Gergasko said. "We are happy to reward our policyholder partners who commit to those values."
HOTCOMP has distributed a total of $2,933,192.40 since the program's inception in 2007. Since 1999, Texas Mutual has distributed more than $150 million in safety group dividends among qualifying safety groups. Since that time, Texas Mutual has distributed more than $2 billion in both safety group and individual policyholder dividends.
In addition to potential dividends, HOTCOMP safety group members also receive discounts on their workers' compensation premiums and have access to free workplace safety materials designed for Texas Hospitals.
"Texas Mutual safety services offers valuable information that helps keep hospital employees safe," said Barry Couch, program manager. "It's great to know that Texas Mutual is in HotComp's corner with safety tips and dividends that help hospitals keep costs low and focus on delivering quality care."
While Texas Mutual has awarded dividends each year since 1999, they are based on performance and therefore are not guaranteed. Additionally, dividends must comply with Texas Department of Insurance regulations.
*The dividend calculation period is 18, 30, and 42 months after the group anniversary inception date. In 2018 for the 18 month calculation period, HOTCOMP did not qualify for dividends due to a high loss ratio.

---
Making the workers' comp experience more intuitive
At Texas Mutual, the customer experience is at the heart of everything they do. As a policyholder-owned company, Texas Mutual has a deep responsibility to their customers to make doing business with them easier.
Texas Mutual frequently reaches out to policyholders and to agents with surveys and research opportunities so we can design processes and products that are simple and intuitive.
Most recently, Texas Mutual has made changes to the way customers can view their policy documents, handle billing for their other states policies, and Texas Mutual is no longer charging installment fees. Soon, Texas Mutual will be offering a new 12-monthly installment plan to eligible policyholders and they're adding functionality to payroll reporting. See more details below.
Recent updates
View policy documents online
Policyholders informed Texas Mutual that they would like easier access to policy documents through their Texas Mutual Online (TMO) account. Earlier this month, Texas Mutual debuted a new feature in TMO called Document Center.
To access the new Document Center, log into texasmutual.com, select Policy and then choose Documents from the dropdown menu.
In Document Center, you can now view, print or save documents such as policies, policy changes, policy cancellations and documents for other states policies. Customers can access up to five years of history on the page.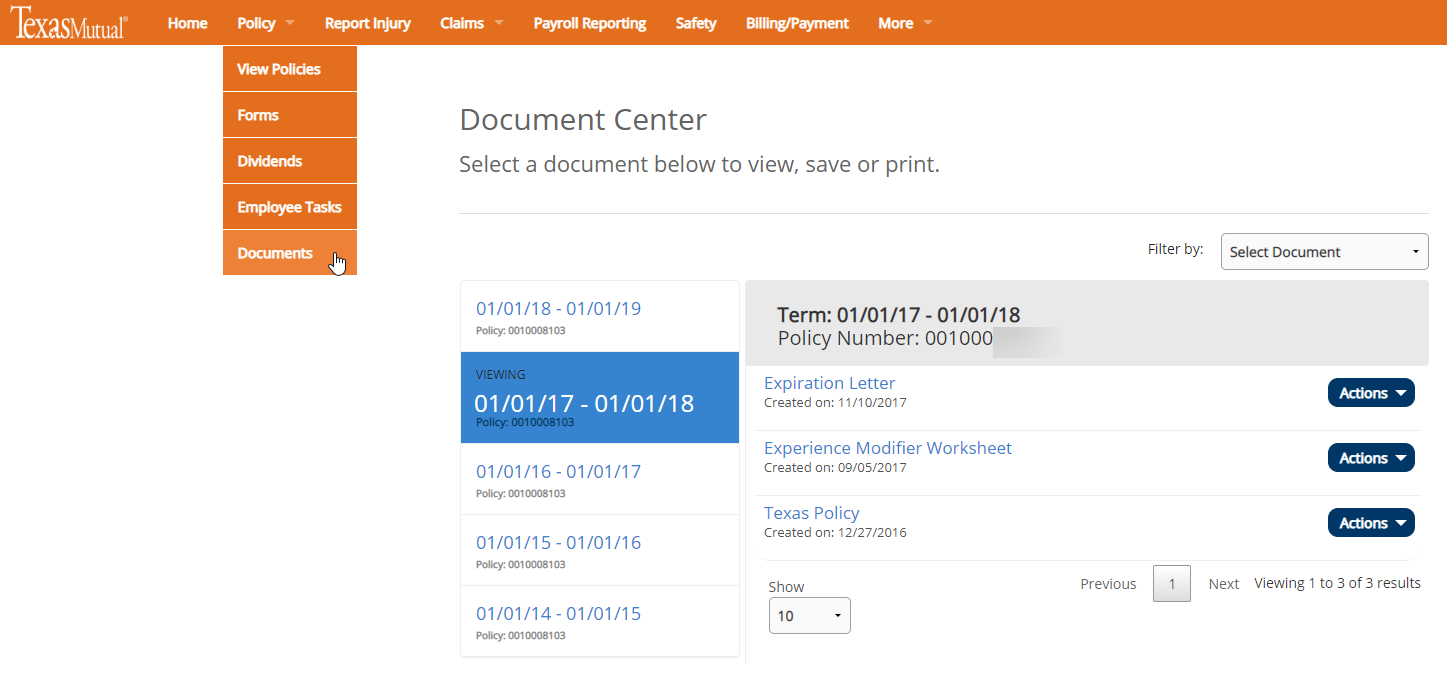 No more installment fees
As of August 4, Texas Mutual is no longer charging installment fees to policyholders enrolled in installment billing. This makes the convenient installment option even more economical for business owners.
Other states combined billing
Texas Mutual simplified billing for policyholders who have policies in other states. Instead of receiving two invoices, policyholders will now receive one combined invoice if both policies are on the same payment plan. Customers will be able to view other states billing information in their Texas Mutual Online account as well.
What's coming
New 12-month installment billing plan
Texas Mutual listened to customer feedback and have created a more convenient installment billing plan that will go into effect early September. For eligible applicants, policy premium will now be paid in 12 monthly installments, with the first installment due by the policy effective date. This plan will replace the 15 percent down installment payment plan.
| Old Plan | New Plan |
| --- | --- |
| 15% down payment to bind coverage | 12 monthly installments over the life of the policy |
| 10 monthly payments | (first installment payment binds coverage) |
Some applicants may be affected during this transition if their quotes (pending payment) have been quoted with the old installment billing plan. We will email applicants and their agents about this change and what to expect.
Payroll reporting by location or by class code
Currently, the payroll reporting process requires policyholders to assign payroll based on location. Next month, we're adding functionality by providing the option to assign payroll by class codes in a consolidated reporting format. We'll share more details on this new feature with policyholders who have multiple locations.
Notable changes for Texas Mutual agent community
Combined commissions for you
When your other states clients renew, or when you write new other states business, you will receive a combined commission check rather than separate checks for Texas and other states business. Because your existing clients won't move to combined billing until their next renewal, you could continue to receive two separate checks for those clients, while also receiving a combined check for new business. This is temporary and will no longer occur after all your other states clients have renewed.
Enhancing Texas Mutual services so that policyholders and agents have a better experience is a central part of their mission. These changes are an important step in creating a seamless and more intuitive experience for Texas Mutual clients.

---
OIG finds flaws in OSHA's fatality and severe injury reporting program
Safety and Health Magazine
Washington — OSHA is not doing enough to ensure it has complete information on work-related deaths and severe injuries, and is not consistent in citing establishments that fail to file required reports, the Department of Labor Office of Inspector General states in an audit report released Sept. 13.
OSHA's changes to its injury and illness recordkeeping rule went into effect in January 2015, but OIG points to estimates from "OSHA's former assistant secretary" that "perhaps 50 percent or more of severe injuries have gone unreported."
OIG also found a "lack of guidance and training on how to detect and prevent underreporting," along with inconsistency in issuing citations to late reporters. Further, OSHA "had limited assurance employers abated hazards properly," the report states, leading OIG to conclude that the agency does not have enough information to direct its enforcement and compliance assistance actions.
According to OIG, auditors tested the reliability of data from 3,642 reported fatalities and 18,805 severe injuries from OSHA's 10 regions from the start of 2015 through the end of September 2016. The auditors then compared the data against the fatality and injury data on the agency's website. The results led to the following recommendations to OSHA:
Develop guidance and train staff on identifying underreporting.
Consistently issue citations to all late reporters.
Clarify guidance on gathering evidence to show employers have corrected all hazards, monitoring employer-conducted inspections and documenting essential decisions.
Conduct inspections on all Category 1 incidents.
OSHA disputed some of OIG's recommendations in a letter from acting leader Loren Sweatt. Sweatt states that "OSHA agrees that better case documentation" could aid in promoting consistency in issuing citations, but expresses concern that the report suggests the "burden to ensure reporting of injuries and illnesses falls on the agency" instead of employers.
She also responds to each of the OIG recommendations and writes that, in certain instances, OSHA might learn about a failure to report after the six-month statute of limitations has expired, meaning the agency cannot issue a citation.
"OSHA commented on a number of the results and recommendations, but nothing in its response changed our report," OIG countered.

---
OSHA Tips for emergency prevention
With rain in the forecast for much of the state, and parts of the country under a state of emergency from Hurricane Florence, help prepare with tips from OSHA. Find resources on flooding, lightning safety and industry-specific preparedness tips.
Emergencies can create a variety of hazards for workers in the impacted area. Preparing before an emergency incident plays a vital role in ensuring that employers and workers have the necessary equipment, know where to go, and know how to keep themselves safe when an emergency occurs. These Emergency Preparedness and Response pages provide information on how to prepare and train for emergencies and the hazards to be aware of when an emergency occurs. The pages provide information for employers and workers across industries, and for workers who will be responding to the emergency.

---
Texas Mutual hosts webinars to help employers learn how to keep their employees safe.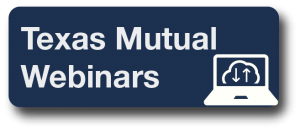 The next webinar is: Friday, October 12: Illness in the Workplace
The hospital can be a breeding ground for sickness, especially during flu season. Learn how to stop the spread of germs and help keep your employees as healthy as possible.
Click here to watch past webinars have been:

---
Your Safety Committee

The HOTCOMP Safety Committee meets twice a year to discuss the issues of safety in our member hospitals and what we can do to do to help make them safer workplaces.The majority of the committee members are administrators and safety specialists in your fellow member hospitals.  We understand that issues come up through the year.  If you would like to post a question to the safety committee members as a group or individuals, please email us at safety@hotcomp.net.  We will pass your questions on to the appropriate member(s).
Barry Couch

, Program Administrator

Muenster Memorial Hospital

Gayle Cannon

, Director of HR

Christina Hertel

, Director of HR

Hamilton General Hospital

Marcy Murrell, 

Co-Safety Director/Infection Control Nurse

Becky McKay,

Director of HR

Carol Villareal

, 

HR Manager
About Safety Matters:
It is our hope that this publication, in addition to Texas Mutual's Safety Resource Center, proves a useful tool to promote safety in our members' hospitals. The newsletter will focus on safety issues that specifically trend to our membership hospitals.
We hope to hear from you on safety issues your hospital is facing and on successful safety procedures you have implemented. It is the safety committee's goal to create a collaborative exchange of ideas that contributes to making all of our hospitals safer which, in turn, will increase our safety group's benefits.
Please send your ideas, questions and comments to safety@hotcomp.net.
Why Your Safety Matters:
You're receiving this email as a member of the HOTComp safety group. The group is a joint effort between HealthSure and Texas Mutual Insurance Company.
Group members receive exclusive benefits like targeted safety resources, a discount on their workers' compensation insurance and potential dividends based upon the safe performance of the group. HOTComp group participants have shared in over $1 million in group dividends since 2008 in addition to individual dividends from Texas Mutual.

---