Contents
Texas Mutual Safety Grant Program! Applications Open July 2nd
Mobility Is Medicine: Healthcare Professionals Around The Country Join New Online Platform By The Hundreds
Introducing the Texas Mutual Claim Assist app
---
Texas Mutual Safety Grant Program! Applications Open July 2nd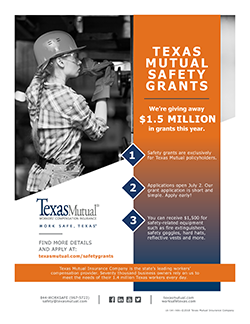 Safety programs are proving their value in the workplace, and as a hospital CEO, your employees are looking to you. Texas Mutual, wants to make it easier for you to invest in safety, and the safety grants do just that. This opportunity is exclusively for Texas Mutual policyholders. Each hospital has the opportunity for a $1,500 grant, to be given on a first come first serve basis. Texas Mutual's grant program will give a total of 1.5 million dollars in 2018. Applications will open July 2nd and we encourage you to apply early for the best chance at receiving a grant. These programs are designed to help make your hospital a safer place to work. See the details below on how you can get funding to buy safety equipment in your workplace.
Get new safety equipment with a safety grant
Safety grant recipients will receive reimbursement of up to $1,500 for the purchase of ergonomic, safety or industrial hygiene equipment to reduce and prevent workplace injuries. If you are awarded a safety grant, you'll have 60 days to purchase the equipment and submit a form for reimbursement. Click here for more information on the safety grants.
How to apply
You could be one of the hundreds of policyholders awarded through the Safety Grant Program. If you are ready to apply, log in to texasmutual.com and click the Safety menu option. Then, click the orange Safety Grants button. See the steps below for more information.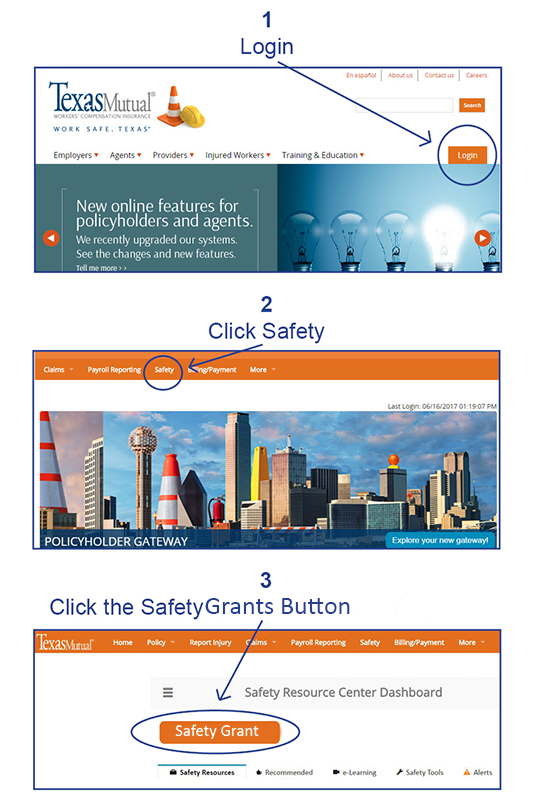 If you have any questions, feel free to contact Texas Mutual's Safety Services Support Center at 844-WORKSAFE (967-5723). We look forward to seeing the health and safety improvements this program will bring to Texas businesses.

---
Texas Mutual is distributing $280 million in dividends to qualifying policyholder owners this year, marking the 20th year that Texas Mutual has paid dividends. This milestone has been made possible by Texas Mutal's policyholders who choose Texas Mutual and make safety a priority. Watch the video below to find out more about how ownership pays at Texas Mutual.
Dividend basics
Dividends help us share the company's financial success with qualifying policyholders who have contributed to that success by keeping workers safe and losses low. When an employer purchases a policy at Texas Mutual, they are not only buying financial security for themselves and their employees. They are also becoming owners in Texas Mutual. Policyholders have the opportunity to receive dividends, just as stockholders of publicly traded companies do.
Each year, Texas Mutual's board of directors votes to approve dividends. Dividends are based on financial performance and therefore are not guaranteed, but Texas Mutual has distributed dividends 20 consecutive years.
The financial impact of dividends
For many policyholders, dividends are key to managing their workers' comp costs. Dividends allow Texas Mutual to offer lower net premium than we would be able to simply by lowering the price up front. In addition, dividends give more control over the total cost to the policyholder because they are based on the policyholder's loss experience. They also give Texas Mutual the chance to recognize policyholders across the state who are working hard to keep employees safe and workers' comp costs low, because that's a commitment that deserves to be rewarded.
Dividend components
There are two components of a Texas Mutual dividend: safety, paid through the annual component, and loyalty, paid through the retention component.
The annual component rewards current policyholders who had an acceptable loss ratio for their policy that expired in the previous calendar year. This is achieved by keeping losses low and making workplace safety a priority.
The retention component recognizes those who choose Texas Mutual year after year by rewarding current policyholders for up to four previous, consecutive years of acceptable, combined loss ratios ending with the policy that expired in the previous calendar year. Some longtime policyholders see their dividend increase over the years because of the retention component.
Qualifying for a dividend
To be eligible for a dividend, a policyholder must have a current, in-force policy and be in good standing with Texas Mutual.
Individual dividends
There are two ways to earn a dividend. Policyholders can earn the annual component that rewards loss history by having an acceptable loss ratio for their policy that expired in the previous year. They could also qualify for the retention component that rewards customer loyalty. Some policyholders qualify for both components, and some qualify for only one.
Early qualifier dividends
Newer policyholders who haven't been with Texas Mutual long enough to earn a regular dividend could receive an early-qualifier dividend, which rewards policyholders for safe workplaces sooner. Early qualifier dividends are paid separately in November.
Safety group dividends
Policyholders who are members of a safety group may also qualify for an additional group dividend if the group has favorable results. These dividends are based on the group's loss history rather than the company's individual history. This means that those who are in a safety group could potentially earn two separate dividends from Texas Mutual, an individual dividend and a group dividend.
Employers can improve their chances of qualifying for dividends by preventing accidents and launching a return-to-work program.
Dividend history
Texas Mutual has distributed dividends each year for the past 20 years, bringing the total payout to $2.5 billion since 1999. This year, Texas Mutual distributing a company-record $280 million to more than 50,000 policyholder owners.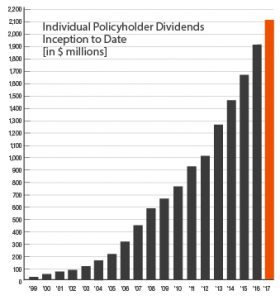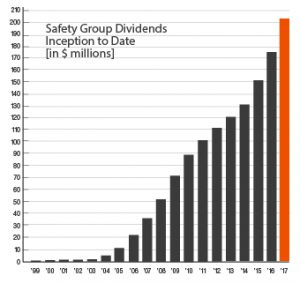 Frequently asked questions for dividend recipients
When are dividends paid?
Dividends are paid in late June. Policyholders are able to log in to texasmutual.com and see whether or not they'll be receiving a dividend by mid-June. Those who don't have a texasmutual.com account but wish to login and see their dividend information should call Texas Mutual's Information Services Center at (800) 859-5995.'
How will I get my check?
Policyholders will receive their check from Texas Mutual through the mail or directly from their agent.
What if I misplace or accidentally discard my check?
Texas Mutual can reissue dividend checks. Call Texas Mutual's Information Services Center at (800) 859-5995 for more information.
Are dividends tax exempt?
In most cases, dividends are tax exempt, but employers should consult their tax professional.
Is the dividend program guaranteed every year?
Dividends are based on performance and therefore are not guaranteed. Texas Mutual has, however, distributed dividends for 19 consecutive years.

---
Mobility Is Medicine: Healthcare Professionals Around The Country Join New Online Platform By The Hundred
PRNewswire
Mobility is Medicine (MiM) is a campaign urging healthcare facilities to reduce cost, caregiver injury, and patient recovery time by prioritizing Safe Patient Handling and Mobility (Patient Mobility). The MiM Forum is a platform for the healthcare industry to share research, innovations and support; update best practices; and engage healthcare leaders and professionals in an organic, collaborative manner.
Individuals engaging on the MiM Forum have a singular goal: make America healthier and safer, thereby reducing risk and associated costs to healthcare facilites. Patient Mobility is key to achieving these goals. Participants take a modern, interdisciplinary approach to age-old problems. They share photos, videos, polls, and other multi-media posts in a virtual conversation 24/7.
Prior to the launch of the MiM Forum, an open-source platform did not exist where healthcare professionals could collaboratively identify best practice. Industry figureheads can now address nationwide issues that lead to increasing hospital costs (i.e. worker's compensation).
The MiM online community has over a century of experience, combined. Many are optimistic that the MiM Forum will push the nation closer than ever to sustainable solutions to patient immobility, caregiver injury, and rising hospital costs.
Gail Powell-Cope, Tampa VA Site Co-Director of CINDRR, and organizer of the annual Safe Patient Handling and Mobility Conference, is a Master Moderator on the MiM Forum. "As a researcher, educator, and advocate of mobility and safety in hospitals, I know that the MiM Forum is long overdue," Gail says. "My motivation comes from wanting to do what is right for nurses, healthcare professionals, patients, and their families. I am proud of our collective dedication to safely improve mobility for patients under our care. We are not finished, though. I will not be satisfied until safe patient handling and mobility is universal. With this tool, I believe we are a massive step closer to that goal."
About MiM:
Mobility is Medicine launched the MiM Forum on 9/22/17. The interdisciplinary collaboration needed to overcome the barriers and obstacles facing Patient Mobility can finally take place via a global, web-based platform. The MiM Forum is open to everyone—from CEO to patient family-member. The sole goal is to evolve Patient Mobility, together. Join the conversation by going to MiM.vBulletin.net.

---
Introducing the Texas Mutual Claim Assist app
Texas Mutual is making claims easier than ever for injured workers
Texas Mutual's new Claim Assist app gives injured workers easy access to all their claim information in one place, on their mobile device. They can view benefit payments, save their pharmacy card, read plain language notices, search for health care providers in Texas Mutual's WorkWell, TX network and email or call their adjuster just by touching an icon.
Customer experience is important to us
Texas Mutual focused on doing the right thing for policyholders and their employees, and that means making it easier to navigate the workers' compensation system.
At the onset of a claim, Texas Mutual's adjusters will identify those employees who are good candidates for the app and provide them with detailed information on how to download and use it. We make sure they know that Texas Mutual values the safety and security of their private information and that the app uses the most up-to-date Apple Touch ID and Android Fingerprint technologies.
While the app is exclusively for workers with a claim, policyholders can access the same information (and more) by logging into their account at texasmutual.com. Employees with the app have all the information they need right at their fingertips, so policyholders can focus on daily operations with confidence that their employees get the service they need for their workers' compensation claim. And, as with Texas Mutual's phone support, information on the app is available in Spanish.
See how employees can easily contact their claims adjuster and view claim information in the images below.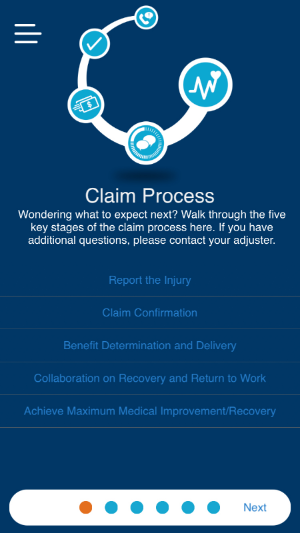 Employees see the benefits of Claims Assist
We launched the app statewide earlier this month after an initial pilot program in Dallas, where it was very well-received. Employees especially valued the ability to see their benefit payment status and know when checks had been released.
Here's what some app users have said about the new tool:
"I would definitely recommend the app — it's easy, and so friendly. I'm not a computer person, but it was easy to figure out how to get around."
"The page where I can click to call my claim adjuster was really simple."
"I would give the app a 9/10… the information is at your fingertips…I have it on my phone everywhere I go."
"I like how I can get ahold of you if I need to, and get a quick response."
Helping people get back to work is what we do.
TXM Claim Assist lets employees who are injured on the job know that we are by their side every step of the way. Texas Mutual proud to offer this new tool to help facilitate injured workers' recovery and return to work.
The Claim Assist app is one of the ways we help injured workers get the care they need to get back to a productive life. Employers can be a part of that process by implementing a return-to-work program in their workplace. Read five tips for making return-to-work work for your hospital, and see how your employees can get involved.

---
Texas Mutual hosts webinars to help employers learn how to keep their employees safe.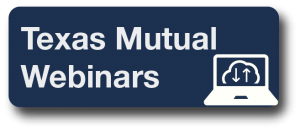 The next webinar is: July 6: Heat Stress
Wow! It's hot out there! Learn how to protect your employees from heat illness during the summer months.
Click here to watch past webinars have been:

---
Your Safety Committee

The HOTCOMP Safety Committee meets twice a year to discuss the issues of safety in our member hospitals and what we can do to do to help make them safer workplaces.The majority of the Committee members are administrators and safety specialists in your fellow member hospitals.  We understand that issues come up through the year.  If you would like to post a question to the safety committee members as a group or individuals, please email us at safety@hotcomp.net.  We will pass your questions on to the appropriate member(s).
Gayle Cannon

, Director of HR

Carol Villareal

, 

HR Manager

Christina Hertel

, Director of HR

Hamilton General Hospital

Marcy Murrell, 

Co-Safety Director/Infection Control Nurse
About Safety Matters:
It is our hope that this publication, in addition to Texas Mutual's Safety Resource Center, proves a useful tool to promote safety in our members' hospitals. The newsletter will focus on safety issues that specifically trend to our membership hospitals.
We hope to hear from you on safety issues your hospital is facing and on successful safety procedures you have implemented. It is the safety committee's goal to create a collaborative exchange of ideas that contributes to making all of our hospitals safer which, in turn, will increase our safety group's benefits.
Please send your ideas, questions and comments to safety@hotcomp.net.
Why Your Safety Matters:
You're receiving this email as a member of the HOTComp safety group. The group is a joint effort between HealthSure and Texas Mutual Insurance Company.
Group members receive exclusive benefits like targeted safety resources, a discount on their workers' compensation insurance and potential dividends based upon the safe performance of the group. HOTComp group participants have shared in over $1 million in group dividends since 2008 in addition to individual dividends from Texas Mutual.

---