Contents
Why Focus on Safe Patient Handling?
Looking at the Combined Survey Results
Texas Mutual's e-Learning ADVANTAGE
---
Why Focus on Safe Patient Handling?
The mission of the HOTCOMP Safety Committee is to constantly improve our hospital members' employee safety. Clearly, a reduction in claims translates into a successful safety group, illustrated annually with the group's dividend checks. Often the claim cost is only a portion of the cost hospitals face when an employee is injured.
The soft cost of an employee injury does not always appear on the balance sheet. Recruiting, training, and maintaining a full staff is an ongoing challenge for any hospital. When an employee is injured the hospital loses a valuable team member. Even if it is a temporary loss, the costs of replacing and training an employee are not small. The hospital may also need to worry about the injury tarnishing the hospital's reputation. Certainly, the most important issue is hospitals care about their employee's well-being. No one wants to see a colleague injured.
Often, we focus on the safety of the patient when we discuss safe patient handling, but the most common ways for a hospital employee to be injured also cost the most. We took a look at the Top 10 Costliest Claims over a 5-year period.
Sum of Total Incurred All Claims
Next, we discovered that 40 percent of the total incurred cost were claims that involved safe patient handling.
Sum of Total Incurred Patient Handling Claims
We see the highest cost has come from claims that involved strains due to patient handling. Knowing this is a large cost to hospitals, the safety committee is focused on solutions to help on our members improve the safety culture by spotlighting employee safety while handling patients.
Over the last few years we have evaluated devices, and safety experts to help our hospitals find solutions to address the challenges our hospitals face due to patient handling. This year the Safety Committee decided to develop an Employee Safe Patient Handling Survey and discussion group questions. The Safety Committee Hospital Members beta tested the survey and discussion group.
Click here to see a pdf of the survey and discussion questions.

---
Each Safety Committee Member hospital had employees involved in handling patients complete the Safe Patient Handling Survey. HOTCOMP administered the anonymous survey tool, by providing each hospital a unique link to the survey. The hospitals distributed the survey to the employees who work with patients. Once the survey tool was complete, HOTCOMP presented a confidential report to each hospital. Once the hospital reviewed the information, they conducted discussion groups with their patient handling employees.
Our Safety Committee Members found this exercise to be helpful in their hospitals. The survey highlighted the items that create a great culture of safety in the hospital, which is reflected in the good safety record the hospitals have. The majority of the responses show that the employees in our Safety Committee's hospitals are aware of the strong safety culture, and people are familiar with and are following safe patient handling procedures.
Still, our members know they must remain vigilant; one employee injury can prove to be extremely costly for a hospital. Through the survey results and discussion groups the hospitals found great ideas on how to continue to improve their hospital's culture of safety regarding Safe Patient Handling.
On our last call, the committee reviewed findings of two Safety Committee Member's hospital. The strength of their culture of safety was reflected by the fact that neither hospital had costly strain claims last year.
Hospital A's representative, mentioned the hospital's current practice of on-boarding new employees with an orientation of the hospital's safety procedures. She mentioned the hospital has its own safety committee that is already very active in creating a good safety culture for their employees. The hospital is also investing in bariatric stretchers and beds to help prevent patient handling injuries.
Hospital B's representative stated that, "We found the survey and discussion groups to be productive and helpful for our hospital. Some good ideas came from our discussion groups. Also, employees using common sense to prevent injuries was mentioned several times." While we often think common sense should be innate in everyone, it cannot always be relied upon. Common sense often needs to be taught. Creating a strong safety culture with clear safe patient handling practices can instill that common sense in a hospital's employees. Below are the ideas Hospital B's discussion group developed to improve an already strong culture of safety:
More in depth safety training at each employee's orientation.
A 6 month safety refresher course to reinforce safe patient handling procedures and tools available to help with safe patient handling,such as lift equipment.
Issuing a gait belt with every fall risk admitted and keeping that gait belt in the room for the duration of the patients stay in the hospital. This will ensure all people handling patients are able to use this tool.
Being sure to address the additional needs of bariatric patients.
Making sure bed and chair alarms are working and being used properly.
Making sure non ambulatory patients special needs are known and creating additional procedures to address those needs.
The hospitals concluded that completing the survey and holding discussion groups was productive for the hospital. It was suggested that it might be a good exercise to do annually, or every few years as a refresher to employees and a good way to assess newer team members.

---
Looking at the Combined Survey Results
When we looked at the combined survey results of the five safety committee member hospitals, we discovered that the majority of the hospitals received positive results. The majority of the responses were aware of and using the safety procedures. Over all team members feel that they were given the proper training and tools. Unfortunately, it did show a small percentage with negative opinions about following procedures. Hospital's cannot afford to only look at the many positive results. We know it only takes one severe injury to negatively impact a hospital. Hospitals must remain vigilant and address any issues that may come up, by always keeping safety as a top priority. Continue to make sure they are reinforcing the safe patient handling procedures and keeping a strong culture of safety. Always having your team address issues after they happen and implementing any changes needed to prevent similar issues in the future. Constantly collaborating with all team members in your hospital to keep safety at the top of mind.
We found some flaws with looking at the safety committee members survey results as a whole. We left it to our committee members to decide how many employees they would send the survey tool. The majority of the group surveyed between 10 to 20 employees, but some of our larger hospitals surveyed closer to 100 employees. Some hospitals had close to 100% surveyed respond vs others who had a low response rate. The hospitals that had the most participation met in person with the managers to explain the purpose of the survey. The managers were then able to explain the survey's purpose and encourage their team's participation. A few key best practices we discovered:
Survey a variety of team members that are involved in safe patient handling.
Survey team members that participate in different shifts in the hospital.
Do Not just including the team members that regularly address safety issues in the hospitals.
The discussion groups also were a critical part of this exercise and proved to be a helpful tool for the hospitals. Overall we want to encourage your hospitals to continue to work on the culture of safety. Constantly addressing employees safety with a focus on patient handling. HOTCOMP strongly encourages you to conduct the survey and discussion group in your hospital. (See article below on how HOTCOMP can help you.)
We will continue to focus on the findings that came as a result of the survey and discussion groups through out 2019. Safety Matters will be featuring additional hospitals safe patient handling survey results through out the year. HOTCOMP will continue to provide education and solutions for your hospitals culture of safety focusing on Safe Patient Handling.

---
If you are interested in having HOTCOMP help you conduct the survey in your hospital please email us.
The next steps are simple:
We will send you a custom link for your hospital.
You will then send that link to the employees that handle patients.
We will send you the results of the survey.
Once you have those results we encourage you to hold discussion groups with various employees to review your patient handling procedures.
Your hospital will implement any changes to address any issues or improvements that come out of this process.
Click here for a pdf of the survey and discussion group questions.

---
Texas Mutual hosts webinars to help employers learn how to keep their employees safe.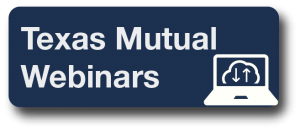 The next webinar is:
April 5:Driver Safety
April is driving safety month, so we're discussing ways to keep your employees safe while on the road. We'll discuss how to create a driver safety program to protect your employees.
Click Here To Look at Past Texas Mutual Webinars

---
Texas Mutual's e-Learning ADVANTAGE
Texas Mutual's e-Learning, offers an innovative approach to online learning. Policyholders have access to our new course catalog containing 400 courses accompanied by quizzes. With e-Learning, employers can assign training, view results, send announcements and keep records easily. HOTCOMP members also have exclusive access three new e-Learning courses customized for the group.
Take a look at our informational e-Learning sheet, watch a preview below, then log in to explore e-Learning.
E-Learning for safety group members
Policyholders who are also safety group members now have exclusive access to three new e-Learning courses customized for their group.
Learn about the new courses below:
Make sure you are making the most of your safety group membership with the "Safety Group Advantages" course, which explains what it means to be in a safety group and what membership has to offer.
Safety group members have exclusive access to safety resources specific to your industry. Learn how to navigate your safety group homepage and Texas Mutual's safety resources in the "Navigating your Safety Resources" course.
Learn the benefits of a return-to-work program and the basics of how to implement one in your workplace in the "Return-to-Work Makes Sense" e-Learning course.
Log in to get started.

---
Your Safety Committee

The HOTCOMP Safety Committee meets twice a year to discuss the issues of safety in our member hospitals and what we can do to do to help make them safer workplaces.The majority of the Committee members are administrators and safety specialists in your fellow member hospitals.  We understand that issues come up through the year.  If you would like to post a question to the safety committee members as a group or individuals, please email us at safety@hotcomp.net.  We will pass your questions on to the appropriate member(s).
Marcy Murrell, 

Co-Safety Director/IC Nurse

Sweeny Community Hospital




Carol Villareal

, 

HR Manager

Gonzales Healthcare System

Muenster Memorial Hospital

Sweeny Community Hospital

Gayle Cannon

, Director of HR

Childress Regional Medical Center
About Safety Matters:
It is our hope that this publication, in addition to Texas Mutual's Safety Resource Center, proves a useful tool to promote safety in our members' hospitals. The newsletter will focus on safety issues that specifically trend to our membership hospitals.
We hope to hear from you on safety issues your hospital is facing and on successful safety procedures you have implemented. It is the safety committee's goal to create a collaborative exchange of ideas that contributes to making all of our hospitals safer which, in turn, will increase our safety group's benefits.
Please send your ideas, questions and comments to safety@hotcomp.net.
Why Your Safety Matters:
You're receiving this email as a member of the HOTComp safety group. The group is a joint effort between HealthSure and Texas Mutual Insurance Company.
Group members receive exclusive benefits like targeted safety resources, a discount on their workers' compensation insurance and potential dividends based upon the safe performance of the group. HOTComp group participants have shared in over $1 million in group dividends since 2008 in addition to individual dividends from Texas Mutual.

---